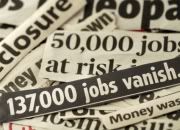 Monday is the day of love, but if you are one of 1.4 million unemployed Canadians, chocolates and flowers may be the last thing on your mind.
Two weeks ago, Finance Minister Jim Flaherty spoke pessimistically in the House of Commons about employment prospects in 2011. He said the best we could hope for was more of the same, i.e. unemployment rate in the range of 7.6 per cent. Days later the rate crept up to 7.8 per cent.
Media and expert analysis placed a positive spin on the higher figure, explaining it as a result of new job seekers, those who had previously given up looking and were now feeling more optimistic. Optimism, real or imagined, tends to sbe good for an economy.